Handmade candles always win. This is because they keep the warmth of the talented master hands and make your evening. If it is important for you to use only eco-friendly products at home, then our eco soy wax candles with a natural wick will definitely make you happy.

Natural candles are made from soft wax extracted from soy beans. The soy is a species of legume native to East Asia. Before using soy beans to produce candles, they are exposed to the cycle of processes.

Handmade soy wax candles give clean burn with no smoke. Natural wick guarantees that the candle does not produce any soot, when burning or extinguished. Only desired aromas will be in the air. These are bright and festive, light and refreshing incredible bouquets.

You may light this handmade candle to create a romantic and unforgettable atmosphere under any conditions, to feel homeliness, warmth of the favourite fireplace and put somebody in a trusting frame of mind. These candles are made in tins, decorated with stylish inscriptions. Undoubtedly, it gives zest to the whole appearance.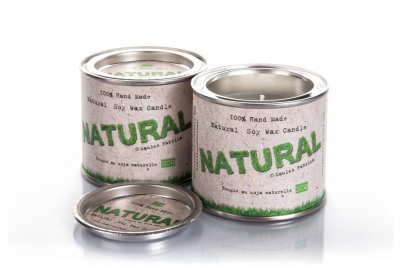 Natural soy wax candles in tins

The notes of natural aromas fill gradually your room once you have lit a natural wick of the candle. Natural is a mix of green tea and jasmine. Sweetness, freshness, lightness of the summer morning and tenderness of the spring wind are interlaced in an amazing manner. Feel overall harmony with nature, staying at home. Make your relatives feel happy and excited by natural candles.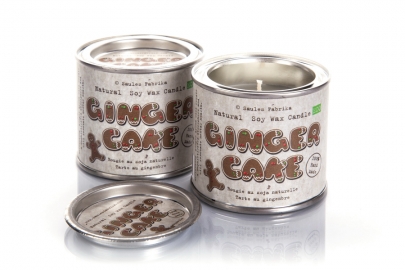 Ginger Cake soy wax candles in tins

Ginger Cake is the brightest aroma that will make any evening unusual and inflammatory. These handmade candles will bring you feeling of a spicy holiday without any chance of dullness and sameness. The flickering bouquet of shades will delight people with a fine sense of smell and wish to believe in miracles. They will certainly come true: you just have to believe! Until then, light a soy wax candle with a natural wick.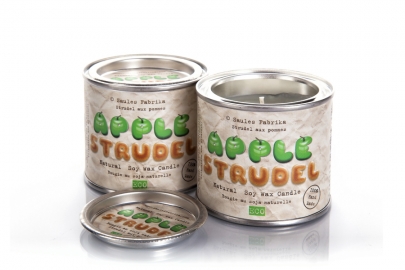 Apple Strudel soy wax candles in tins

Eco soy with a fragrance of apple strudel is a find for people, keen to create a warm and home atmosphere. Amicable evening may become perfect if you light these candles and remember good old days, or maybe you are enjoying communication with congenial souls right now. The aroma of apple pie is often associated with a big hospitable house...